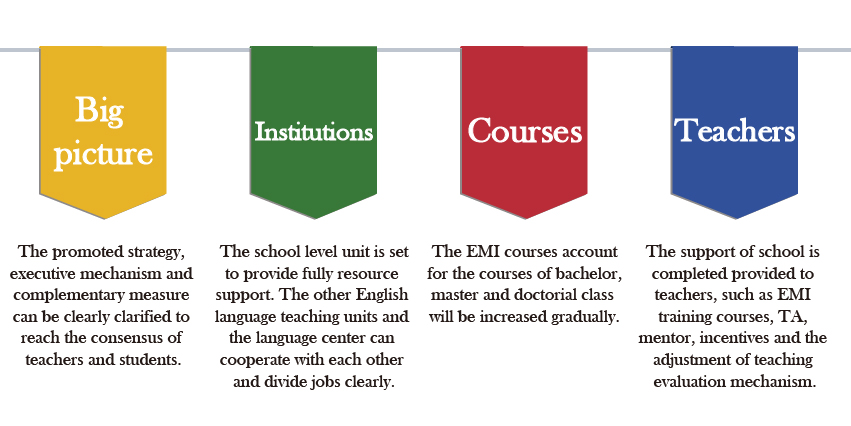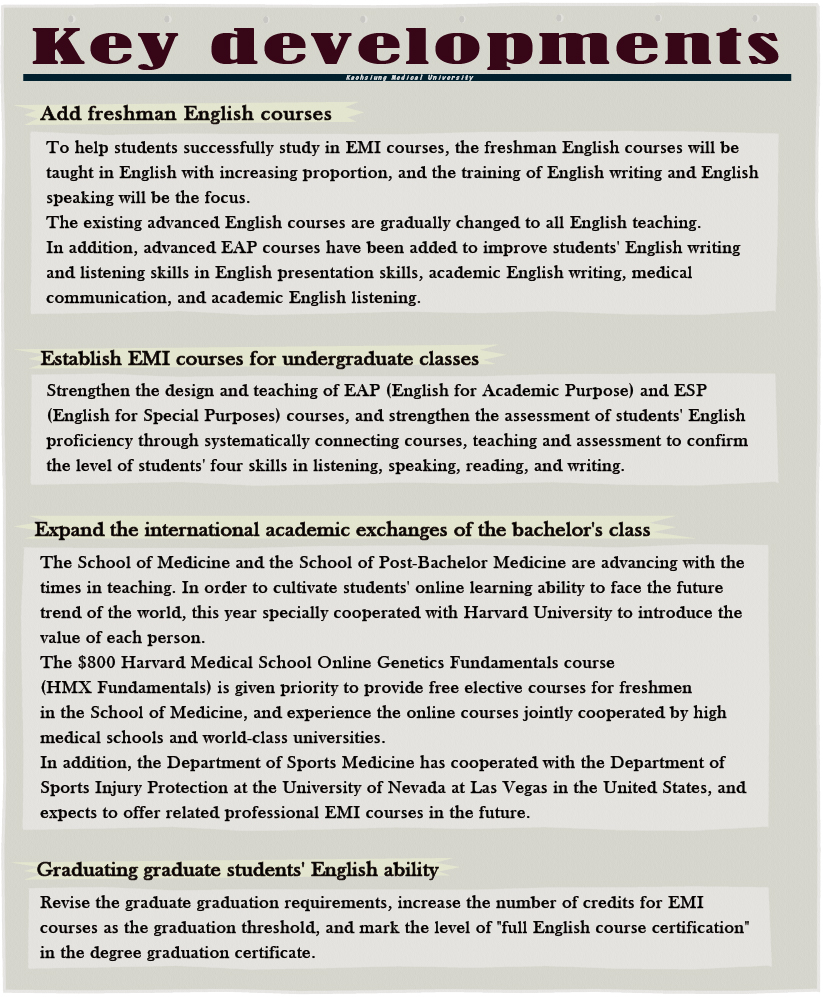 【Key developments】
Add freshman English courses:
To help students successfully study in EMI courses, the freshman English courses will be taught in English with increasing proportion, and the training of English writing and English speaking will be the focus. The existing advanced English courses are gradually changed to all English teaching. In addition, advanced EAP courses have been added to improve students' English writing and listening skills in English presentation skills, academic English writing, medical communication, and academic English listening.
Establish EMI courses for undergraduate classes:
Strengthen the design and teaching of EAP (English for Academic Purpose) and ESP (English for Special Purposes) courses, and strengthen the assessment of students' English proficiency through systematically connecting courses, teaching and assessment to confirm the level of students' four skills in listening, speaking, reading, and writing.
Expand the international academic exchanges of the bachelor's class:
The School of Medicine and the School of Post-Bachelor Medicine are advancing with the times in teaching. In order to cultivate students' online learning ability to face the future trend of the world, this year specially cooperated with Harvard University to introduce the value of each person. The $800 Harvard Medical School Online Genetics Fundamentals course (HMX Fundamentals) is given priority to provide free elective courses for freshmen in the School of Medicine, and experience the online courses jointly cooperated by high medical schools and world-class universities. In addition, the Department of Sports Medicine has cooperated with the Department of Sports Injury Protection at the University of Nevada at Las Vegas in the United States, and expects to offer related professional EMI courses in the future.
Graduating graduate students' English ability: Revise the graduate graduation requirements, increase the number of credits for EMI courses as the graduation threshold, and mark the level of "full English course certification" in the degree graduation certificate.

【Qualitative indices】
1. The goal of increasing the proportion of academic, master, and doctoral students into 5 EMI courses year by year.
2. Complete the appropriate review and revision of the English graduation threshold, and complete the degree graduation certificate remarks or the EMI course certificate issuance mechanism.
3. The course evaluation and teaching evaluation of EMI courses will give feedback to each teaching unit as a reference for EMI teaching and course improvement.