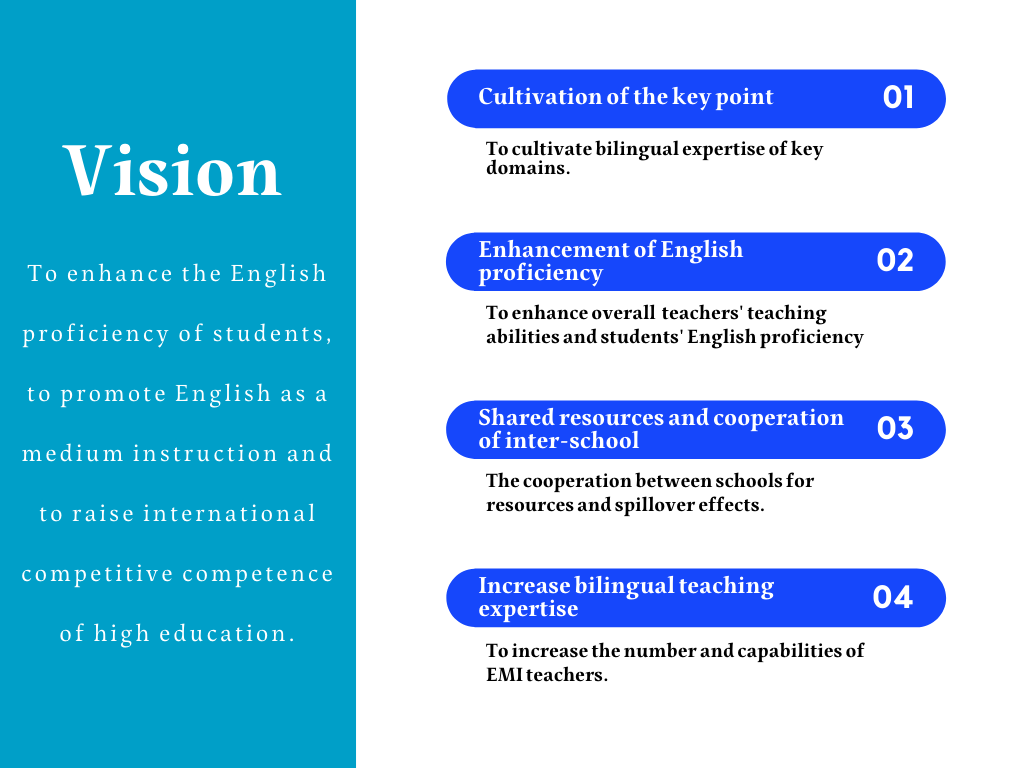 The educational objectives of the School of Medicine, "broad vision" and the Department of Medicine's "international connection" corresponds with the Ministry of Education's bilingual learning program and policy for college students, which support and promote the implementation of bilingual learning for students. In addition to cultivating medical professionals with international capabilities for Taiwan, this program will lead the School of Medicine to improve the overall English proficiency of the curriculum, faculty and students, deepen the strengths of future international students and enhance the global competitiveness of medical education.
The purpose of medical school education is to cultivate medical professionals with an international perspective. For the departments with national examinations and licensure, medical communication is the most important part of medical practice. English proficiency can help improve students' communication skills and cultivate quality international medical professionals. In addition, for our students of the Department of Sports Medicine, a good command of English will help them to obtain international licenses, increase chances to work as protective officers and physical trainers in national training centers and to do national diplomacy and enhance the international image of the country in global competitions. Graduates will have more opportunities to develop in foreign-related fields of study or industry. Furthermore, biomedical research and development is a major area of competition among advanced countries and an important science for the health of all people. Therefore, "enhancing international competitiveness" and "having an international perspective" are the key educational objectives of the Institute of Medicine of the Faculty of Medicine.
The School of Medicine has already incorporated bilingualism as a professional core competency in some courses. Participating in this project wishes to improve the bilingual teaching skills of faculty, expand English teaching in professional courses, strengthen the professional English communication skills of students, and promote communication between local and foreign students to enhance international perspective. This will enhance the students' bilingualism and provide them with cross-disciplinary professional and research abilities, thereby improving their global competitiveness and breadth of employment. Through this program, the School of Medicine expects to cultivate bilingual biomedical talents with international mobility and to contribute to the promotion of human health for all.